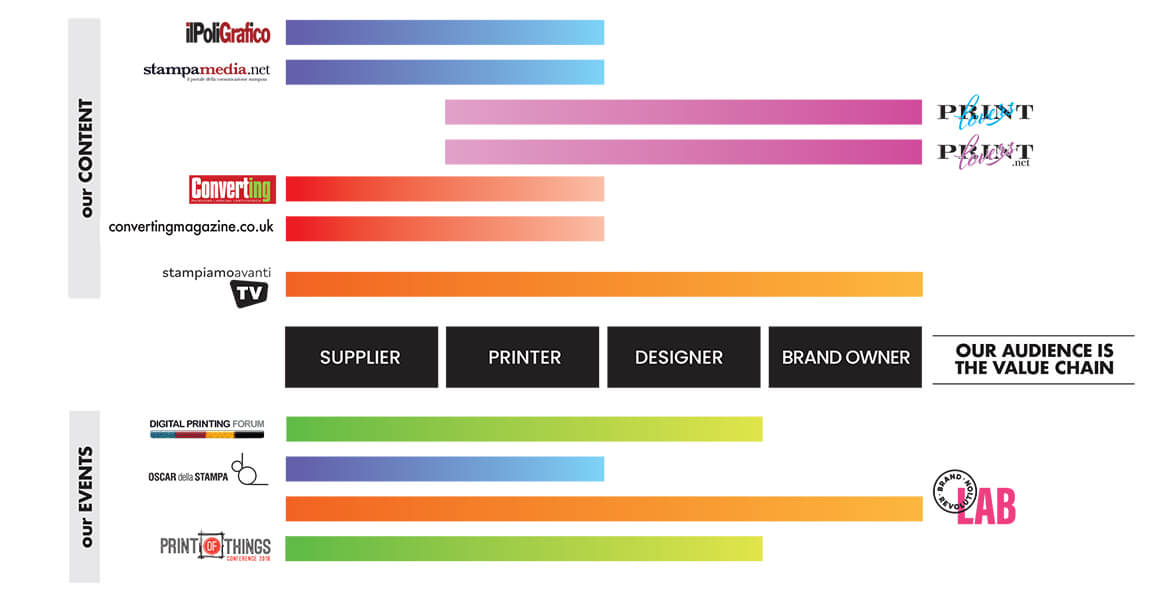 In this image, in the center with the black tiles, we depict the value chain of the printing and converting industry. We have 4 audiences that we mainly address:
VENDOR: suppliers (producers and/or distributors) of technologies for the printing, packaging and paper converting sectors.
PRINTERS: the entire commercial, editorial, specialist and packaging printing production chain.
DESIGNERS: professionals who influences decisions to purchase printed matter: graphic designers, art directors, communication agencies.
BRAND OWNERS: marketing and communication manager of industries, commerce, services.
The colored wands above represent our print and digital publishing products. Those below instead our content expressed with events.
Our goal is to interface with each of these audiences through a multi-channel strategy that is based on different platforms of Traditional Marketing, Digital Marketing and Events.
To understand which audiences each product reaches, just look at which black tiles correspond to the length of the wand. For example, if you are a vendor and want to communicate with printers, choose Il Poligrafico, stampamedia.net and the Oscar della Stampa; if you are a vendor and want to talk to printers and designers, choose PRINTLovers and Printlovers.net. And if you want to embrace the entire supply chain, there is Brand Revolution.
In case of any doubts, do not hesitate to contact us.